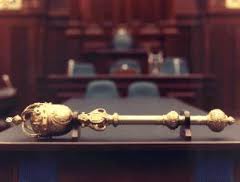 The Borno State House of Assembly, on Thursday passed the 2016 appropriation bill earlier presented to the house by Governor Kashim Shettima into law.
The house after extensive deliberations passed the N155.007, 345, 180 appropriation bill, which had an increment of N4, 348,000, 000 over last year's budget.
The passage followed the report of the house committee on appropriation which was tasked with the responsibility of working out the modalities for the 2016 budget for the house to debate and pass into law.
The speaker, Abdulrahman Lawan said the over N4bn increment was meant to assist the state government pursue developmental projects.
Addressing newsmen, the house leader who doubles as the chairman, house committee on appropriation, Mohammed Zakariya Gajibo, who had earlier tabled the new budget increment motion before the house, said the house recommended the increment following the consideration of the magnitude of projects to be executed by the state ministries to enhance poverty alleviation and youth empowerment, works and transport and also initiate reconstruction, rehabilitation and resettlement programs.
In another development, a member representing Danboa constituency, Bukar Daja Aliyu sponsored a motion on the reopening of primary schools in Damboa town and it's environs.
" my attention was drawn by members of Damboa youths development association after registering over three thousand school children for the government to complement their efforts" Aliyu noted.